Solitary Confinement

Region

Unknown

Unknown

923

V1.0 (2010-06-08)
The solitary confinement is a location in the Submachine Universe with the coordinates 923. It was added with the first batch of areas on the 8th of June, 2010.
Architecture
Edit
This area is a loop, one of many in the subnet. This one in particular is fairly complicated. There are four rooms, each padded up, like in stereotypical mental facilities. This type of architecture has also been seen in the ward.
The drop zone has the portal, as usual. This room has a hole in the ceiling through which the player can go up to a room with two doors and a hole in the floor. Through this hole one can always go down to the portal room, but the drop zone isn't the only room one can climb to this room from.
From the room with a hole in the ground, the player can go right and get to a room with a camera, familiar from the prison cells. It is assumed that this camera is on, as its lens glows red. Going left from the room with the hole in the ground, one arrives into a room with a digital panel. The panel has 3 lights arranged in the shape of a triangle, with the top light active, and the number 3 below.
From the room with the camera one can only get to the room with the number panel, but from the room with the number panel one can go up and get to the room with the hole in the ground, or go left and get to the panel room or go right and get to the camera room.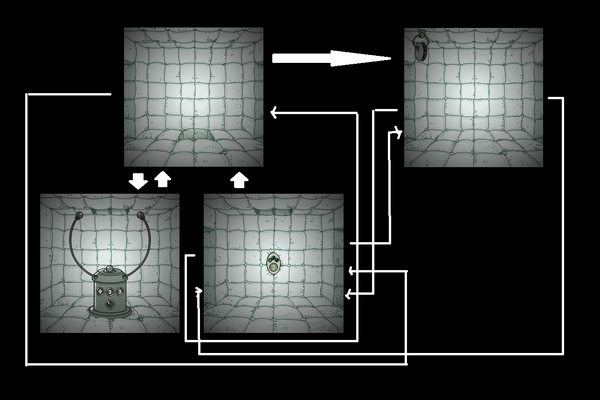 Submachine Universe locations
Ad blocker interference detected!
Wikia is a free-to-use site that makes money from advertising. We have a modified experience for viewers using ad blockers

Wikia is not accessible if you've made further modifications. Remove the custom ad blocker rule(s) and the page will load as expected.