False Loop

Region

Unknown

Unknown

V4.5.4 (2017-12-20)

The false loop is a location in Submachine Universe.
Architecture
Edit
This location has red brick walls covered with yellow plaster. They bear yellow lamps. The ceiling is absent; the floor is covered with wood planks. In front of the player, there is a low parapet. The rooms are connected with brick arches; two of the arch spaces are bricked up.
The karma portal stand in this location's drop zone is made of stone and consists of a small cylindrical base with a large cone supported by four spindly and uneven columns. A small wrinkle in the front houses the karma portal.
The room on the left contains a telescope and is followed by one more room, which has a code screen on its wall. The hallway to the right of the portal contains 10 identical rooms that are empty except for a tile (D) laying on the floor of the tenth room.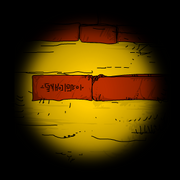 The code screen found in the leftmost room of this location credits Lost5ilver for the location's ambiance.
Submachine Universe locations