The broken clock room is a location in the Submachine Universe.
Architecture
Edit
The area consists of four rooms. The room has purple wallpaper with pink stripes on it, with a similar design covering the floor.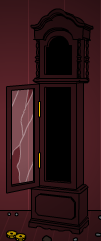 In the drop zone, there is a large pile of dirt that has flowed in from the door in the background. The rubble has almost knocked over the portal. To the right, there are some stones and a cardboard box, which references the theory about Schrödinger's Cat. Beside it, in the corner, there are two notes taped to the wall, holding SubHunter's "The Uninhabited Theory".
To the left, a window is bricked up with grayish bricks. Under the window there is a plaque that reads: PROTOCOL ACCORDANT RETREAT = THIS - QI.
The leftmost room is dominated by a grandfather clock. It has been torn apart, leaving only an empty shell. All the pieces are on the floor; weights, pendulum, clock face itself, six cogs and the two hands.
The ambiance is a variety of the sounds of a grandfather clock. There are about ten tick-tocks before the clock whirrs and starts ringing, playing the beginning of the Westminster Chimes. There first are couple series of four clangs but then the clock hits nine times and stops. Then after this, there are 26 tick-tocks.

This room is clued to in 128
This room clues to 355.
The clock gears in this area are colored versions of the coins in Daymare Town series.
Submachine Universe locations