The cake loop is a location in the Submachine Universe.
Architecture
Edit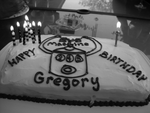 Each screen in this area has a blue, wooden floor and teal-gray curtains drawn back to reveal a cryptic design on the wall. Numerous chairs surround a table with plates. The table also contains a picture of a birthday cake.
Two displays on either side of the table contain Wanderer99's theories. These are adorned by more chairs and a karma antenna.
The two screens at either end of the room loop infinitely, with the chair being alternately shown knocked over and stood up again.
The coordinates to this location came from a drawing of a portal prominently showing them on the cake.
This location is clued to from the study.
The photograph was taken on September 2nd, 2010, which was Greg's 17th birthday. This location was not made accessible until 4 years and 16 days later.
Submachine Universe locations
Ad blocker interference detected!
Wikia is a free-to-use site that makes money from advertising. We have a modified experience for viewers using ad blockers

Wikia is not accessible if you've made further modifications. Remove the custom ad blocker rule(s) and the page will load as expected.