The error room is a location in Submachine Universe.
Architecture
Edit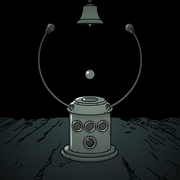 This area has side and bottom walls and floor of stone. The void provides the background. This room is dedicated to the bells as they are also mentioned in the theory found in the area. Four bells can be found; only three work. The bells do not activate anything outside this location.
The leftmost screen contains the "Theory on Defense Systems" by Anteroinen as well as a fully operational bell. The next screen contains the portal and another bell overhead. If the bell is rung, the portal is shut off. To the right of the portal there is one more operational bell. In the right most room there is a broken bell, with a "X" carved instead of the typical "double d" rune. This clues to 010. In place of the bell is a karma portal leading to rcr.
At either end of the location, light seems to be coming from the edge, as it is brightest there, and shadows are cast, even though no light can be seen from the black background.

The coordinates of the room are based on the common HTTP error message 404, and in 006 (the room that clues to this one) the clue says "ERROR 404" which clues here.
Submachine Universe locations
Ad blocker interference detected!
Wikia is a free-to-use site that makes money from advertising. We have a modified experience for viewers using ad blockers

Wikia is not accessible if you've made further modifications. Remove the custom ad blocker rule(s) and the page will load as expected.