The Ouroboros tunnel is a location in Submachine Universe.
The location is a tunnel consisting of four rooms. There are two holes in the stone walls, each blocked by large and impassable steel gratings. Near the smaller hole to the right is the elaborate "Coordinate Systems Theory" by Zerpentos, along with a knocked-over chair and gas lamp. Near the larger hole in the center, there is a projector containing three images that correspond to the theory. To the far left is a hole in the wall through which light flows, illuminating a pattern on the wall. The pattern depicts the Masonic Square and Compasses surrounded by the mythological Ouroboros. Two coordinates can be found in this pattern: 523 and 917. In some areas, the stones in the floor resemble scale patterns akin to those found on snakes.
A copper plate can be inserted into a small receiver that reveals a drop-down ladder in the room with the Ouroboros design. The ladder leads to a room containing a karma portal to mlp.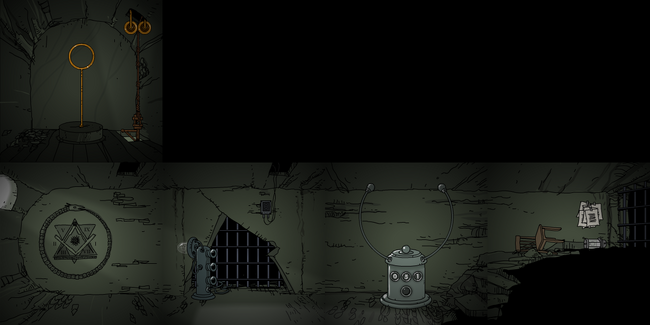 Submachine Universe locations
Ad blocker interference detected!
Wikia is a free-to-use site that makes money from advertising. We have a modified experience for viewers using ad blockers

Wikia is not accessible if you've made further modifications. Remove the custom ad blocker rule(s) and the page will load as expected.