The tile is an object featured in Submachine 1: The Basement, Submachine 4: The Lab, Submachine 9: The Temple and Submachine 10: The Exit. 
Four tiles can be found around the game area. In the original Submachine 1, the four tiles were found via:
1. The bells.
2. Using a pearl to balance a clock.
3. Using the code on a coin as the combination for a lock.
4. Using a spoon to blow a fuse.

In the remix version, #3 was replaced by:
3'. Throwing three switches before solving #4.
When the tiles are inserted into the unknown rotatory device, the centerpiece of the puzzle, the screen goes dark briefly. Then, an elevator door appears in the wall, through which is the end of the game.
The four tiles are found in the ancient section by different methods: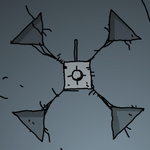 A. Tile A can be collected after cutting it from a string with a knife.
B. The other three tiles B, C, and D are found by operating the control panel to the left of the bell.
After completing the puzzle the Player can then access a new part of the Ancient Section.
The four tiles are found in the pyramid by different methods:

1. One tile is found by unlocking a brass box with an obtained chest key.
2. A second tile can be found in one of the air vents of the pyramid.
3. A third tile can be found leaning against a wide golden statue.
4. A fourth tile can be found by using a stone tablet to access a small alcove where the tile is.
The tiles can be inserted into a device in the Pyramid's "sixth layer", and will, upon completion, move a set of stone slabs to become a staircase.
In this iteration, all four tiles are located in various tile rooms, found by using the karma stabiliser on some floating fragments:
The tile pieces are used at the Northern Garden docks at the end of the staircase by the bottle fuse dispenser, and allows access to the Metal section.
In the Submachine Universe version of the ancient section, the puzzle still exists but cannot be solved (the levers on the control panel are missing). The Universe version also has a karma portal included in the part where the tiles are placed.
Ad blocker interference detected!
Wikia is a free-to-use site that makes money from advertising. We have a modified experience for viewers using ad blockers

Wikia is not accessible if you've made further modifications. Remove the custom ad blocker rule(s) and the page will load as expected.